Register Now
Use the chat facility to ask your questions to Janey the Witch!
Halloween Live Read - Room On The Broom read by Janey the Witch
Halloween Live Read – Room On The Broom read by Janey the Witch
This broadcast featured a Live read of the book Room On The Broom read by Janey the Witch.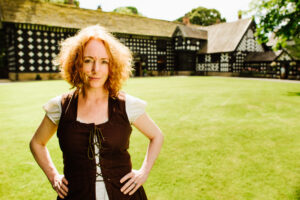 Janey The Witch 
My name is Janey and I'm the resident witch at Samlesbury Hall. I was first accused of being a Witch over 300 years ago and I've had a splitting headache ever since! It's about this time of year that I usually entertain all the darling little children. I tell them my grim tales about ghosts and goblins of old. I also encourage them to make a spell, either good or bad. It's always their choice, although I personally find the bad spells to be rather more exciting! I have an array of gruesome artefacts that I reveal to the children and ask them to identify them? Some of their answers leave me, even as a seasoned witch, quite literally lost for words!
I took the general public on a free Sunday tour around the Hall, pointing out points of interest such as Priest Holes, secret passages and I tell them about the ghosts of Samlesbury Hall… The famous White Lady, the young girl who died of a broken heart and now roams the Hall and grounds looking for her lost sweetheart. Being a witch I am also on hand to advise on matters of the body, heart and soul. I know how to cure a whole host of ailments from relieving toothache to warding off the plague, I even know how to find your cows if they haven't come home. My speciality however has to be my love spells as they have never yet failed… I think!
About the book – Room On The Broom 
Based on Julia Donaldson's picture book, telling the story of a kind witch who invites a collection of animals to join her on her broom.
The Witch and her cat fly happily over forests, rivers and mountains on their broomstick until a stormy wind blows away the Witch's hat, bow and wand. They are retrieved by a dog, a bird and a frog, and each animal asks for a ride on the broom. They climb on, one after the next, until the broom is so heavy that it snaps in two! What will happen next as they tumble into a bog and meet a greedy dragon?
Room on the Broom is a very funny story of quick wits and friendship and will captivate children with Julia Donaldson's irresistible verse and Axel Scheffler's spectacular illustrations.
Age Range: 4+  Subject: Magic 
The LIVE CHAT is always open, please use this to ask any questions you have to Janey the Witch.
Broadcast Length: 30 Minutes